Mr Jean-Benoît Demaret > Bredin Prat > Paris, France > Profil de l'avocat
Bredin Prat
Bureaux
Bredin Prat
53 QUAI D'ORSAY
75007 PARIS
France
Mr Jean-Benoît Demaret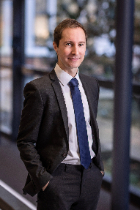 Département
Corporate / M&A / Private Equity
Fonction
Partner
Carrière professionnelle
Jean-Benoît Demaret, Partner, is a member of the Corporate team.
He advises companies on mergers and acquisitions, private equity and securities law and notably handles cross-border transactions involving both privately and publicly held companies.
He advises companies of all nationalities and their directors in connection with external growth transactions, strategic alliances and joint ventures.
Jean-Benoît was seconded to Slaughter and May in 2017-2018.
Langues
French, English
Formation académique
Admitted to the Paris Bar (2013), Jean-Benoît is a graduate of ESCP Europe (Specialised Master's degree in International Business Law and Management, 2012), the University of Paris 1 Panthéon-Sorbonne (Master 2 in Financial Law, 2011) and the University of Paris Nanterre (Master 2 in Business and Corporate Law, 2010).
Classements des avocats
Présent à Paris et Bruxelles,  Bredin Prat intervient dans des opérations de dimension nationale ou internationale, avec l'appui de son prestigieux réseau de Best Friends pour les dossiers européens stratégiques. La pratique est aussi soutenue par d'excellents pôles d'expertises complémentaires au sein du cabinet (en droit fiscal, concurrence, droit social, financement, restructuration et contentieux). Les effectifs sont larges et permettent de traiter toute taille d'opérations.  Olivier Assant

et Benjamin Kanovitch sont recommandés pour les opérations cotées, quand  Patrick Dziewolski

intervient dans une large gamme de transactions, notamment dans les secteurs de l'énergie, de la finance et de la construction. Sophie Cornette de Saint-Cyr «solutionne les problèmes et sait négocier». L'équipe comprend également Sébastien Prat

et Matthieu Pouchepadass dont l'expertise transactionnelle se double de compétences contentieuses, boursières et de gouvernance. La jeune associée  Clémence Fallet  intervient dans une grande variété d'opérations ; quand Jean-Benoît Demaret et Christine Lenis  (qui a été promue associée en janvier 2021), ainsi que  Marine Blottiaux qui a été élue counsel sont des talents prometteurs au sein de l'équipe.
Top Tier Firm Rankings
Firm Rankings