Mr Hugues Calvet > Bredin Prat > Paris, France > Profil de l'avocat
Bredin Prat
Bureaux
Bredin Prat
53 QUAI D'ORSAY
75007 PARIS
France
Mr Hugues Calvet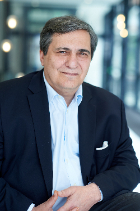 Département
Competition and EU Law
Fonction
Partner
Carrière professionnelle
Hugues Calvet, Partner, is a member of the Competition and EU Law team. He specialises in antitrust litigation (cartels, abuse of dominant position, etc.) and also regularly advises clients with respect to European and French competition issues.
Prior to joining Bredin Prat, he was a Law Clerk at the Court of Justice of the European Communities from 1987 to 1991.
Langues
French, English
Formation académique
Admitted the Paris Bar (1992), Hugues is a graduate of the University of Toulouse (Maîtrise in private law, 1978; DEA in private law, 1979) and the École Nationale de la Magistrature (1981-1983).
Classements des avocats
(Les grands avocats du marché)
Bredin Prat est une signature de marque sur le marché du droit de la concurrence. L'équipe conseille de grandes sociétés nationales et internationales, spécialisées notamment dans les secteurs de l'énergie, des télécoms, du transport, des services financiers, de la pharmacie, des médias, ainsi que de la grande consommation et distribution. Le champ d'expertises couvre l'ensemble de la discipline : mesures provisoires, demandes de clémence, discussions transactionnelles et comparutions devant la Commission Européenne et l'Autorité de la Concurrence. La pratique est codirigée par : le très expérimenté Hugues Calvet, Olivier Billard, qui se charge des dossiers de concentrations et d'aides d'état, le spécialiste des concentrations internationales Igor Simic,  Marie-Cécile Rameau, qui assiste ses clients lors d'enquêtes de droit de la concurrence, la spécialiste en droit public économique Yelena Trifounovitch , et enfin le responsable du bureau de Bruxelles Pierre Honoré.
Top Tier Firm Rankings
Firm Rankings