Antoine Payen > De Pardieu Brocas Maffei > Paris, France > Profil de l'avocat
De Pardieu Brocas Maffei
Bureaux

De Pardieu Brocas Maffei
57 AVENUE D'IENA
CS 11610
75773 PARIS CEDEX 16
France
Antoine Payen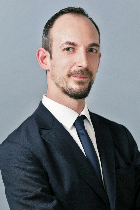 Département
Projects Financing
Fonction
Antoine Payen, Partner, is involved in banking and finance, and more particularly in project and structured finance. He advises financial institutions (bank and institutional lenders) and sponsors (industrial companies, developers, investment funds), in the context of infrastructure financing operations (in particular, concession contracts, public service delegation, partnership contracts) and energy project financing. He is involved in both financing and project aspects.
Carrière professionnelle
He started his career by joining De Pardieu Brocas Maffei in 2010. He was appointed as Partner in 2021.
Langues
French, English
Affiliations
Member of the Paris Bar since 2010
Formation académique
He holds a Postgraduate Degree in banking and finance law from the University of Paris I Panthéon – Sorbonne and a Postgraduate Degree in business law from the University of Paris II Panthéon – Assas.
Classements des avocats
De Pardieu Brocas Maffei est réputé pour sa forte expertise sur le segment du financement de projets en France. Le cabinet est particulièrement mandaté par des sponsors et des prêteurs pour le financement de projets ou de portefeuilles d'actifs d'énergies renouvelables (solaire, éolien, biogaz et hydrogène). L'équipe est également experte dans le conseil aux prêteurs impliqués dans des projets d'infrastructures publiques. Elle est récemment intervenue sur le financement de plusieurs projets d'infrastructures haut débit et sur le refinancement d'une autoroute. A la tête de la pratique, Jean-Renaud Cazali

est reconnu comme l'un des meilleurs experts du marché en financement de projets. Il est entouré par Antoine Payen qui a été promu associé en 2021.
De Pardieu Brocas Maffei est l'une des grandes références du marché pour les dossiers concernant la filière énergétique française. Le cabinet est principalement reconnu pour son expertise réglementaire, à travers  Christine Le Bihan-Graf

, , qui est assistée par l'avocate counsel Laure Rosenblieh. Le cabinet conseille une base de clientèle de premier ordre, composée de grands producteurs et distributeurs d'électricité français, de développeurs d'énergies renouvelables et de l'état français, pour la résolution de leurs problématiques réglementaires hautement stratégiques (telles que des procédures menées devant le régulateur), mais aussi pour le développement et la restructuration de projets énergétiques. L'équipe a ainsi récemment traité plusieurs contentieux en matière de tarifs énergétiques. La pratique d'énergie du cabinet fait aussi intervenir les experts en financement de projets Jean-Renaud Cazali

et Antoine Payen, (qui a été promu associé en 2021), qui assistent des prêteurs et des développeurs dans le financement de nombreux projets d'énergies renouvelables et de transactions portant sur des portefeuilles d'actifs. La pratique fait enfin contribuer plusieurs associés corporate, dont Thomas Bréart de Boisanger , dans des opérations stratégiques, notamment dans le secteur des énergies renouvelables. La pratique énergie du cabinet est codirigée par Christine Le Bihan-Graf , Jean-Renaud Cazali et Thomas Bréart de Boisanger .
Top Tier Firm Rankings
Firm Rankings