Laude Esquier Champey > Lyon, France > Profil du cabinet
Laude Esquier Champey
Bureaux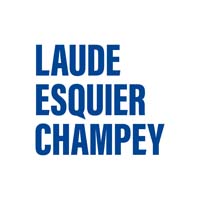 Laude Esquier Champey
20, avenue Maréchal Foch
69006 Lyon
France
Laude Esquier Champey > The Legal 500
Rankings
Laude Esquier Champey
est spécialisé dans la gestion du contentieux de la propriété intellectuelle, de dimension nationale comme internationale. La responsable de la pratique,
Sophie Havard Duclos
est reconnue pour sa solide expertise du contentieux de marques, de dessins et modèles. La base de clientèle comprend des entreprises et des PME françaises et internationales, spécialisées dans les secteurs de la mode, de la cosmétique, du luxe et des technologies.
Responsables de la pratique:
Principaux clients
Christian Dior Couture
Danone
Engie
Facebook
Instagram
Accor
Leopold Croizet
Eugène Perma
Oxstal
Laboratoires Laurence Dumont
Corel
Principaux dossiers
Obtained the confirmation by the Douai Court on 17 June 2021 that the trademark "Danio" does not infringe upon Dagniaux's former rights over two trademarks containing the name "Dagniaux".
Obtained a decision from the Paris Court on 28 May 2021 condemning Energy Green for the infringement of Engie and Engie Green's former trademarks and trade names.
Dirigée par 
Sophie Havard Duclos
, l'équipe de 
Laude Esquier Champey
dispose d'une forte expertise dans l'assistance aux clients français et internationaux en matière contentieuse. L'équipe est très active dans le domaine de la mode ; elle assiste ainsi des groupes de mode et de luxe dans la gestion de procédures en violation du droit d'auteur et dans la négociation contractuelle.
Responsables de la pratique:
Principaux clients
CHRISTIAN DIOR COUTURE
DANONE
ACCOR
Principaux dossiers
A représenté avec succès Christian Dior Couture devant le tribunal correctionnel de Bobigny et la cour d'appel de Paris dans une affaire impliquant 5 024 paires de boucles d'oreilles portant atteinte aux droits d'auteur et de conception de Christian Dior Couture sur son célèbre modèle "Mise en Dior Tribal".
Assistance à Nike dans le cadre de la saisie par les douanes françaises de chaussures portant atteinte à ses droits d'auteur et de conception.
Assistance aux clients dans la négociation et la rédaction d'ententes relatives aux droits d'auteur.
Laude Esquier Champey
est une boutique contentieuse reconnue sur le marché, qui dispose notamment d'une large expertise sectorielle. Le cabinet intervient régulièrement pour de grands groupes français, notamment dans les domaines du luxe, des technologies et de l'industrie. Il représente aussi de nombreuses sociétés et investisseurs internationaux. Le volant d'affaires comprend de nombreux litiges commerciaux, mais aussi des conflits d'actionnaires sensibles et des contentieux liés à des procédures collectives. La pratique traite enfin des dossiers de responsabilité des produits et d'assurance - l'équipe gère notamment plusieurs litiges d'assurance liés à la crise de la Covid-19. La pratique est codirigée par 
Olivier Laude
, 
Victor Champey
, 
Richard Esquier
et
Florent Bouderbala
, qui a été promu associé début 2021.
Responsables de la pratique:
Olivier Laude; Richard Esquier; Victor Champey; Florent Bouderbala
Les références
'Une bonne expertise dans les domaines techniques. Réponses très rapides et grande disponibilité.'
"Olivier Laude a un bon sens des affaires qui l'aide à régler les litiges."
Principaux clients
KERING
BLABLACAR
MITSUBISHI LOGISNEXT EUROPE
EURELEC TRADING
MATISA MATÉRIEL INDUSTRIEL
VALLOUREC
MGA ENTERTAINMENT INC
LAFARGEHOLCIM
MARIE BRIZARD WINE & SPIRITS (MBWS)
Principaux dossiers
Représentation de Kering et de sa filiale Yves Saint Laurent dans un litige avec l'ancien directeur artistique d'Yves Saint Laurent, Hedi Slimane.
Représentation de LAFARGE SA et LAFARGEHOLCIM dans un litige avec l'assureur D&O AIG EUROPE lié à l'enquête pénale en cours ouverte en France contre LAFARGEHOLCIM et certains de ses anciens dirigeants et employés, concernant les activités syriennes de la société au cours des années 2014 et 2015.
Représentation de BlaBlaCar dans divers procès initiés par plusieurs prestataires en lien avec la rupture par BlaBlabus (filiale de BlaBlaCar) de contrats dans le cadre de la pandémie de Covid-19.
Boutique dédiée au règlement des litiges, 
Laude Esquier Champey
représente des assureurs (Bâloise, CNP Assurance) dans la gestion de leurs contentieux et de leurs relations avec les autorités réglementaires. Le cabinet assiste aussi de grandes entreprises de BTP (LaFarge, Legrand) dans le traitement d'un large éventail de sujets. Le champ d'expertises couvre notamment l'analyse des polices, les enquêtes pénales et les pertes d'exploitation liées à la Covid-19. La pratique est dirigée par l'expert en assurance-vie
Richard Esquier
et inclut
Florent Bouderbala
 qui a été promu associé en janvier 2021.
Responsables de la pratique:
Principaux clients
Sunergia
Diot
Matisa
Legrand
Homevi
Cardif Lux Vie
Wealins
CNP Assurances
Lafarge
Baloise
Laude Esquier Champey >
Profil du cabinet
Le cabinet Laude Esquier Champey est spécialisé en contentieux des affaires.
Il réunit une équipe d'une vingtaine d'avocats, dédiée à la gestion et la résolution des litiges, français et internationaux.
Le cabinet intervient essentiellement pour de grands groupes français ou internationaux, de grandes entreprises, des PME et des dirigeants de sociétés, dans les secteurs économiques les plus divers.
Anticiper et gérer les conflits, analyser les risques, bâtir une stratégie, dénouer les situations de crise, générer une transaction ou au contraire mettre en œuvre les procédures judiciaires adéquates, sont au cœur de son activité et de son expertise.
Animé par six associés aguerris aux techniques de négociation et à la pratique judiciaire, le cabinet assure la défense des intérêts de ses clients avec pugnacité et efficacité, en recourant à des solutions pragmatiques et adaptées aux intérêts stratégiques et financiers en jeu.
Le cabinet représente ses clients devant tous types de juridictions (judiciaires, administratives, arbitrales).
Effectifs
Nombre d'associés : 6 Nombre d'avocats : 22
Langues
français anglais espagnol italien portugais
Affiliations
ACE: Avocats Conseils d'Entreprises IBA (International Bar Association) Association pour le Management des Risques et des Assurances de l'Entreprise (AMRAE) APRAM (Association des Praticiens des Marques et Modèles) Association Internationale Pour la Protection de la Propriété Industrielle (AIPPI) INTA - International Trademark Association