Olivier de Juvigny > Peltier Juvigny Marpeau & Associés > Paris, France > Profil de l'avocat
Peltier Juvigny Marpeau & Associés
Bureaux

Peltier Juvigny Marpeau & Associés
49 AVENUE DE L'OPÉRA
75002 PARIS
France
Olivier de Juvigny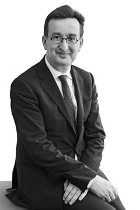 Département
Contrôle européen et français des concentrations et contentieux des pratiques anticoncurrentielles
Fonction
Associé
Carrière professionnelle
Après avoir exercé à Bruxelles et à Paris, il est devenu associé de Rambaud Martel en 1998. La publication Global Competition Review l'a mentionné en 2004 parmi les "40 under 40 world's leading antitrust partners". Olivier a créé, avec Thibault Reymond notamment, sa propre équipe en 2004, laquelle a obtenu en 2006, en 2011 et en 2016 le Trophée d'or, en matière de concentrations et pratiques anticoncurrentielles, de la revue Décideurs juridiques et financiers. Il a été désigné "Best Lawyer of the Year 2014" en droit de la concurrence par le classement Best Lawyers
Olivier de Juvigny est reconnu pour son expertise en contrôle européen et français des concentrations et en contentieux des pratiques anticoncurrentielles, et recommandé à ce titre comme "leading individual" ("Band 1") par le guide Chambers & Partners, selon lequel "Olivier de Juvigny is unanimously praised by market observers, with one hailing him as pragmatic, modest, close to clients, with an excellent reputation" ou encore "Olivier de Juvigny is described as possessing outstanding technical skills, especially when it comes to litigation. Clients appreciate his drive and his great understanding of their business".
Langues
Français, anglais
Formation académique
Olivier de Juvigny est diplômé de l'ESSEC, du Magistère de Juriste d'Affaires (Paris II) et du DESS de droit des affaires et fiscalité (Paris II).
Classements des avocats
(Les grands avocats du marché)
De haute renommée, l'équipe de Peltier Juvigny Marpeau & Associés assiste de grandes multinationales dans leur gestion d'un large éventail de problématiques réglementaires et de droit de la concurrence. Elle se voit confier des opérations de concentration, des recours indemnitaires, des dossiers d'aides d'état et autres procédures antitrust initiées par l'Autorité de la Concurrence ou la Commission Européenne. Elle accompagne aussi ses clients lors de visites et saisies. La pratique est codirigée par la star du contentieux antitrust Olivier de Juvigny, Thibault Reymond, qui est spécialisé dans la gestion des dossiers touchant aux secteurs pharmaceutique et agricole, et Ning-Ly Seng. Le cabinet traite aussi régulièrement des dossiers relatifs aux domaines de la banque, des médias, du divertissement, de la distribution et de la sécurité. Le collaborateur Thomas Bardusco mérite également une mention pour sa contribution à la pratique.
Top Tier Firm Rankings
Firm Rankings