Bentam Societe D'Avocats > Paris, France > Profil du cabinet
Bentam Societe D'Avocats
Bureaux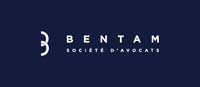 Bentam Societe D'Avocats
18 Boulevard Malesherbes
France
Bentam Societe D'Avocats > The Legal 500
Rankings
Bentam Societe D'Avocats >
Profil du cabinet
Bentam is a law firm dedicated to the financing industry. The firm, created in 2021, has 12 professionals. It advises banks, investment funds, financial institutions, public persons and companies involved in the firm's key sectors. The value of the services provided by the firm lies in a functional organization designed to adapt to the expectations of its clients.
Public and Private bond finance
Bentam assists the dealers (issuers, placement agents, investors) in setting up bond financing, in the form of stand-alone issues (public or private placements, listed companies or not) and Euro Medium Term Notes (EMTN) programs. Bentam intervenes in bond finance for all types of issuers with a particular expertise in disintermediated financing for the public sector. In this regard, the firm's lawyers advise its clients on bond financing for local governments, public inter-municipal cooperation establishments (municipal, mixed, urban communities), public health establishments, mixed economy companies and issuers from the world of public housing.
Other market financing
Bentam has an equally strong expertise in alternative financing such as equity securities, associative securities and negotiable debt issuance programs (NeuCPs and NeuMTNs), as well as in loans governed by German law (Schuldschein and NSV).
Project finance
We have a well-known experience in renewable energy and infrastructure project finance. Our team assists lenders (banks, debt funds, investment funds) and developers in the structuring and implementation of their project financings: senior debt (bank or private financing), subordinated debt, mezzanine debt, green bonds, bridge financings, including legal and tax structuring and interest rate derivatives issues. Our team performs the due diligence on the projects financed, including all regulatory, contractual, financial and corporate aspects.
Asset and receivables finance
Our team has a proven track record in asset financing, particularly for industrial or rolling stock or equipment, whether through loans, leases, financial or operational leases, or through the use of trusts.
We are involved in receivables financing: domestic and international factoring, receivables discounting in infrastructure or tax credit projects, or other financing based on assignments of receivables.
Real estate finance
Bentam has extensive and proven expertise in real estate finance, including hotel finance. We generally advise lenders in connection with the financing of leisure and hotel assets. In particular, we have recently acted for banking pools in ultra-marine hotel financing schemes including a Girardin tax exemption dimension.
We also have experience in corporate real estate refinancing transactions, in particular with trust-based transactions.
Acquisition finance
We work alongside lenders (banks and/or bondholders) and borrowers in setting up, negotiating and drafting all financing documentation regarding acquisition transactions (LBO/unitranche).
Equity-bridge financings
We generally advise lenders in the setting up of bridge financings for the benefit of investment funds (FPCI, free partnership companies, Luxembourg funds, etc.) in the context of pre-financing the acquisition or divestiture of their assets. We advise lenders on the financing documentation, eligible securities and regulations applicable to these particular financings.
Acquisitions
We assist buyers or sellers in their acquisition of assets or companies. In particular, we have extensive experience in the energy transition sector, where we regularly assist in the sale and acquisition of projects or developers, in both competitive and non-competitive processes.
Private Equity
We assist sponsors, investors or senior or mezzanine lenders in the context of private equity transactions, in particular development capital and LBOs, with a strong practice in the field of energy transition and mobility. We assist our clients with legal and tax structuring and the choice of legal tools, as well as the negotiation and drafting of documentation.
Langues
French, English, Spanish, Arabic, Serbian, Russian, Italian
Classements des cabinets d'avocats