Jacques-Philippe Gunther > Latham & Watkins > Paris, France > Profil de l'avocat
Latham & Watkins
Bureaux

Latham & Watkins
45 RUE SAINT DOMINIQUE
75007 PARIS
France
Jacques-Philippe Gunther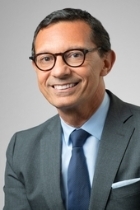 Département
Antitrust & Competition
Fonction
Jacques-Philippe Gunther is a partner in the Paris office of Latham & Watkins. He advises leading French and international companies on a variety of complex, cross-border merger control, contentious antitrust matters, and state aid.
Mr. Gunther advises clients before the European and French competition authorities on a broad range of anticompetitive practices and before French courts, with a particular focus on damages claims. He also has deep expertise in complex Phase I and Phase II European and national merger filings and state aid.
Mr. Gunther has particular experience in the telecom, transport, energy, media, defense, sports, and financial services sectors.
Langues
French, English
Affiliations
Mr. Gunther is a member of the Antitrust Commission of the "Club des Juristes", one of the most sophisticated think tanks including in-house and outside lawyers, and is also a member of the Antitrust Commission of the MEDEF.
Classements des avocats
(Les grands avocats du marché)
Le dispositif parisien de Latham & Watkins regroupe une douzaine d'avocats particulièrement expérimentés et qui peuvent s'adjoindre des compétences  complémentaires auprès du bureau de Bruxelles ou de la plateforme internationale. Le cabinet dispose d'une excellente expertise en matière de contrôle des concentrations nécessitant des notifications devant les autorités françaises, européennes ou simultanément dans plusieurs pays. Sur le front des pratiques anticoncurrentielles, le cabinet est récemment intervenu dans des affaires de cartel emblématiques au niveau national. Il a aussi traité plusieurs litiges indemnitaires faisant suite à de précédentes condamnations. L'équipe est codirigée par y Jacques-Philippe Gunther, Frédéric Pradelles et Adrien Giraud qui partage son temps entre les bureaux de Paris et de Bruxelles du cabinet. La counsel Mathilde Saltiel apporte également un important soutien.
Top Tier Firm Rankings
Firm Rankings