Mr Olivier Edwards > Orrick Rambaud Martel > Paris, France > Profil de l'avocat
Orrick Rambaud Martel
Bureaux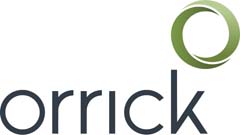 Orrick Rambaud Martel
31 AVENUE PIERRE, 1ER DE SERBIE
CEDEX 16, 75782 PARIS
France
Mr Olivier Edwards
Département
Technology Companies Group
Fonction
Olivier Edwards est avocat au sein de l'équipe Technology Companies Group du bureau parisien d'Orrick. Il conseille des start-up et des fonds d'investissement dans le cadre d'opérations de financement et de fusions-acquisitions locales ou transfrontalières.
Carrière professionnelle
Avec une expérience reconnue dans le cadre de dossiers de fusions-acquisitions et de joint-venture, Oliver a travaillé avec les acteurs clés du marché du Tech, comme eBay, Allen Systems Group, Anyware Technologies, Sony Ericsson. Avant de rejoindre Orrick en tant que Senior Counsel, Olivier était associé chez Gide Loyrette Nouel, et il était à la tête du département Venture européen chez Morgan Lewis.
Langues
Français Anglais
Affiliations
Olivier est très impliqué dans des activités pro-bono liées au milieu de la Tech : il est membre actif et fondateur de deux associations à but non lucratif dédiées au développement des start-up: CroissancePlus and PME Finance.
Formation académique
LLM (Master de droit), City of London Polytechnic (now London Metropolitan University), 1973 Master 1, Université Paris II – Panthéon-Assas, 1969
Classements des avocats
(Les grands avocats du marché)
Orrick Rambaud Martel a musclé les rangs de ses associés suite à la promotion d'Olivier Vuillod en janvier 2020. Le cabinet est même parvenu à étoffer son portefeuille de clientèle en 2020 malgré un contexte difficile marqué par la crise sanitaire de la Covid-19. La pratique française de capital-risque et de capital de développement du cabinet a de nombreux atouts : un French desk situé au cœur de la Silicon Valley, une excellente capacité à traiter des opérations de dimension nationale comme internationale, et une présence équilibrée auprès des investisseurs et des entreprises cibles. La pratique parisienne, qui compte une dizaine d'avocats, est codirigée par Benjamin Cichostepski et le senior counsel  Olivier Edwards (qui partage son temps entre la France et la Californie) qui ensemble supervisent le bureau français de la Silicon Valley; et par le nouveau promu Olivier Vuillod.
Top Tier Firm Rankings
Firm Rankings