Mr Yann Aguila > Bredin Prat > Paris, France > Profil de l'avocat
Bredin Prat
Bureaux
Bredin Prat
53 QUAI D'ORSAY
75007 PARIS
France
Mr Yann Aguila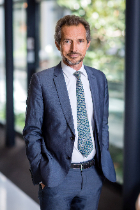 Département
Public Law
Fonction
Partner
Carrière professionnelle
Yann Aguila, Partner, heads the firm's Public Law Practice. He advises on all aspects of public law and environmental law in connection with transactions and litigation.
He lectures on public law and environnemental law at Sciences Po, at the National School of Administration (ENA) and at the Paris Bar School.
He is also a member of the legal think-tank, the Club des Juristes, where he chairs the Environmental Law Commission.
Prior to joining Bredin Prat (2011), he was a member of the French supreme administrative court, the Conseil d'État, since 1990, as Deputy Secretary-General (2001-2004), Commissaire du gouvernement au Conseil d'État (2004-2009) and as a judge within the Litigation Division (2009-2011). He also acted as legal adviser to the President of the Republic of Senegal (1995-2001).
Langues
French, English
Formation académique
Admitted to the Paris Bar (2011), Yann is a graduate of the high-level civil servant training institution, the École Nationale d'Administration (1990), the Institut d'études politiques of Aix-en-Provence (1986) and the University of Aix-en-Provence (Maîtrise in law, 1985).
Classements des avocats
Chez Bredin Prat, l'équipe dirigée par Yann Aguila assiste de grandes entreprises privées françaises et internationales, ainsi que des entités publiques et des organisations professionnelles dans le traitement d'enjeux réglementaires stratégiques, comprenant la gestion du contentieux administratif. Le cabinet assiste notamment plusieurs opérateurs privés de premier plan dans les secteurs des transports et de l'hôtellerie dans la gestion de litiges réglementaires remettant en cause la légalité du cadre juridique actuel dans ces domaines. L'équipe possède également une forte expertise s'agissant de conseiller des entreprises et des organismes publics dans leur réorganisation. Enfin, l'équipe est également sollicitée pour intervenir lors d'opérations de fusions-acquisitions traitées par le cabinet et concernant des infrastructures publiques ou des entreprises publiques. Le champ d'expertises couvre aussi le droit public général dont le droit des contrats publics. L'équipe compte également dans ses rangs Guillaume Froger (counsel).
Top Tier Firm Rankings
Firm Rankings