Alexandre Rocchi > Arsene > Paris, France > Profil de l'avocat
Arsene
Bureaux
Arsene
32, RUE DE MONCEAU
75008 PARIS
France
Alexandre Rocchi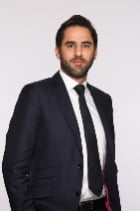 Département
Corporate Tax / Personal taxation
Fonction
Partner and member of the Cabinet's Associate Council.
Carrière professionnelle
Alexandre has acquired particuler expertise in coporate taxation, particularly in the construction, luxury goods and audiovisual sectors. He has also developed skills in Private Equity and executive taxation. As such, he regularly intervenes in the following areas :
– Due diligence for industrial or Private Equity clients
– Structuring of acquisition operations Implementation of Management Package
– Daily assistance on French and international tax issues for groups
– Assistance in tax control and monitoring of tax disputes.
Langues
English
Formation académique
D.E.A de Droit Fiscal (Paris I – Sorbonne)
D.E.S.S – D.J.C.E Droit des Affaires et Fiscalité (Nancy II)
Classements des avocats
Arsene est l'un des premières boutiques fiscales de France. Le cabinet dispose d'un panel très complet d'expertises lui permettant de traiter l'ensemble des problématiques fiscales transactionnelles et de conseil, comprenant la fiscalité des sociétés, les prix de transfert et les questions de TVA. Le cabinet est régulièrement impliqué dans de grandes opérations immobilières, de LBO et de fusions-acquisitions. Il a notamment accompagné le Laboratoire Filorga lors de son acquisition par Colgate-Palmolive. L'associé gérant  Denis Andres est hautement recommandé, ainsi que  Frédéric Donnedieu de Vabres. Sont également des intervenants de premier plan : Alexandre Rocchi et Brice Picard pour la fiscalité des sociétés ; ainsi que  François Lugand, Franck Llinas et Stéphanie Hamis pour la fiscalité immobilière.  Antoine Glaize dirige la pratique de prix de transfert du cabinet et du réseau Taxand. L'experte en TVA  Nathalie Habibou a été associée en janvier 2020.
Top Tier Firm Rankings
Firm Rankings