Mr Cyril Gaillard > Bredin Prat > Paris, France > Profil de l'avocat
Bredin Prat
Bureaux
Bredin Prat
53 QUAI D'ORSAY
75007 PARIS
France
Mr Cyril Gaillard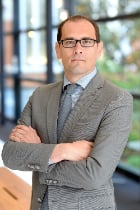 Département
Employment Law
Fonction
Partner
Carrière professionnelle
Cyril Gaillard, Partner, is a member of the firm's Employment Law team. He specialises in employment litigation, including the criminal aspects of employment law, and social security law.
He is in charge of sensitive matters relating to liability in groups (co-employment, tortious liability), restructuring (legality of consultations, job protection plans, etc.), trade union law (representation, compliance with law, etc.), collective bargaining (working time, employee benefits, etc.) as well as compliance with laws relating to employees' rights and freedoms in the workplace (discrimination, harassment, etc.).
Prior to joining Bredin Prat in 2010, he was a Partner at Capstan, a French firm which specialises in employment law.
Langues
French, English
Formation académique
He was admitted to the Paris Bar (1998), holding a specialisation in labor and social security law since 2004, and is a graduate of the University of Montpellier (DESS in Employment Law and Practices, 1997).
Classements des avocats
(Les grands avocats du marché)
Bredin Prat est doté d'une équipe très expérimentée. Dans la continuité de la pratique de référence du cabinet dans le domaine des fusions-acquisitions, l'équipe de droit social intervient fréquemment dans la gestion des aspects de droit du travail liés aux opérations traitées par le cabinet (qui sont le plus souvent parmi les plus importantes du marché français et impliquent régulièrement des sociétés cotées en bourse). La pratique présente aussi une forte activité autonome ; l'équipe accompagnant ses clients dans leurs projets complexes en matière de négociations collectives et de réorganisation. L'équipe gère aussi des dossiers individuels sensibles concernant de hauts cadres dirigeants, et des litiges de masse. Elle est notamment en charge d'un contentieux sensible concernant le non-respect allégué d'engagements pris devant l'État français dans le cadre d'une opération de fusion-acquisition de grande envergure. L'équipe défend enfin une grande plateforme numérique dans des procédures à forts enjeux concernant le statut social de ses collaborateurs. La responsable de la pratique  Pascale Lagesse

, Cyril Gaillard et Laëtitia Tombarello forment un excellent trio.
Top Tier Firm Rankings
Firm Rankings