Mr Julien Gayral > Bredin Prat > Paris, France > Profil de l'avocat
Bredin Prat
Bureaux
Bredin Prat
53 QUAI D'ORSAY
75007 PARIS
France
Mr Julien Gayral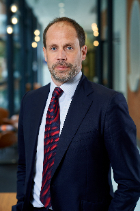 Département
Tax
Fonction
Partner
Carrière professionnelle
Julien Gayral, Partner, is a member of the Tax team and practises in the field of French and international tax law. He specialises in advising on the tax aspects of domestic and cross-border transactions (mergers and acquisitions, private equity and real estate transactions) and also has extensive experience in handling tax controversy and dispute resolution. He also advises private clients, particularly corporate executives, on their personal tax situations.
He has written numerous articles on tax issues and tax consolidation and also gives lectures in tax law at the French business school HEC and the University of Paris II Panthéon-Assas.
Prior to joining Bredin Prat in 2006, he was with CMS Bureau Francis Lefebvre (1999-2006). He gives lectures at HEC and the University of Paris II Panthéon-Assas.
Langues
French, English
Formation académique
Admitted to the Paris Bar (2000), Julien is a graduate of the University of Paris XI Sceaux (Maîtrise in business law, 1997), the University of Cergy Pontoise (DESS-DJCE, 1998) and the University of Montpellier (CES in tax law, 1998).
Classements des avocats
(Hall of Fame)
L'excellente équipe fiscale de Bredin Prat est l'une des plus réputées du marché en matière de fiscalité transactionnelle. Elle intervient régulièrement aux côtés du pôle corporate (qui est aussi l'un des meilleurs de la place) sur la structuration des plus grandes opérations cotées et non cotées du marché. La base de clientèle comprend de nombreuses entreprises du CAC 40 et de grandes sociétés internationales, ainsi que des banques et des fonds d'investissement. Des family offices et des clients privés font aussi appel à l'expertise fiscale du cabinet. L'équipe fiscale s'illustre régulièrement par son implication dans les opérations les plus complexes et stratégiques du marché, souvent d'envergure mondiale comme l'atteste son accompagnement de PSA (aujourd'hui Stellantis) dans sa fusion avec Fiat Chrysler. L'équipe brille aussi dans la gestion des contentieux fiscaux à forts enjeux, tels que des litiges contestant la législation fiscale en vigueur devant les tribunaux. Elle est aussi en charge de plusieurs dossiers de redressement fiscal sensibles concernant les management-packages de dirigeants ou soulevant des problématiques fiscales importantes, telles que les questions d'abus de droit. Enfin, le cabinet est recommandé pour la gestion des dossiers de droit pénal fiscal de haut niveau. L'équipe comprend des grands noms du marché : le responsable de la pratique  Yves Rutschmann,

  Sébastien de Monès

, Pierre-Henri Durand

et Julien Gayral

A suivre également, la relève emmenée par Anne Robert et  Jean-Florent Mandelbaum , ainsi que les avocats promus counsel en janvier 2022 : Marion Méresse , Franck Morhain  et Victor Camatta .
Top Tier Firm Rankings
Firm Rankings