Barbara Levy > De Pardieu Brocas Maffei > Paris, France > Profil de l'avocat
De Pardieu Brocas Maffei
Bureaux

De Pardieu Brocas Maffei
57 AVENUE D'IENA
CS 11610
75773 PARIS CEDEX 16
France
Barbara Levy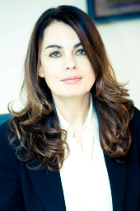 Département
Barbara Levy dispose d'une pratique reconnue en matière de contentieux de droit des affaires et de contentieux industriel et dans les domaines de la propriété intellectuelle et, du droit de la distribution. Elle conseille et représente des sociétés nationales et internationales dans divers secteurs d'activité, tels que les télécommunications, l'industrie du luxe et l'énergie.
Fonction
Associée
Carrière professionnelle
Barbara Levy a rejoint le cabinet en tant qu'associée en 2009, après avoir exercé en tant qu'associée au sein des cabinets Fried Frank Harris Shriver & Jacobson (2005-2008) et Veil Jourde (1992-2005).
Langues
Français et Anglais
Affiliations
Barbara Levy est membre du Barreau de Paris depuis 1990 et est membre de l'International Trademark Association (INTA), du Women's Forum for the Economy and Society et de l'International Bar Association.
Formation académique
Elle est titulaire d'un DEA de Droit international privé de l'Université de Paris II Panthéon-Assas avec une spécialisation dans le domaine de l'arbitrage commercial international.
Classements des avocats
De Pardieu Brocas Maffei est excellent dans la gestion des litiges commerciaux à forts enjeux, présentant souvent des aspects internationaux complexes. Parmi les affaires récentes les plus notables, le cabinet est intervenu dans un litige stratégique portant sur la fourniture de pièces automobiles et a géré plusieurs recours indemnitaires stratégiques en matière de droit de la concurrence. Barbara Levy est particulièrement recommandée au sein de l'équipe. Dominique Lefort est un spécialiste reconnu du contentieux bancaire, tandis que Paul Talbourdet gère des contentieux immobiliers. Enfin, le cabinet est également très compétent pour traiter le contentieux des procédures collectives.
La pratique de droit européen et de la concurrence du cabinet  De Pardieu Brocas Maffei vient régulièrement au soutien de grandes entreprises visées par des enquêtes de place, diligentées par les autorités de concurrence. Le cabinet traite des affaires d'ententes, d'aides d'état et des opérations de concentrations. La pratique est dirigée par le spécialiste du contentieux antitrust et de la concurrence  Philippe Guibert , et par Barbara Levy, qui traite des questions de droit de la distribution et de la propriété intellectuelle. Autre membre important de l'équipe, Laëtitia Gavoty Tolot , qui est experte en matière de pratiques anticoncurrentielles, a été promue associée en juillet 2021. Le portefeuille de clientèle couvre les secteurs de l'e-commerce, de la banque, des assurances, du transport, des télécoms, de l'énergie, de la pharmacie et de la distribution.
Top Tier Firm Rankings
Firm Rankings