Mr Didier Martin > Bredin Prat > Paris, France > Profil de l'avocat
Bredin Prat
Bureaux
Bredin Prat
53 QUAI D'ORSAY
75007 PARIS
France
Mr Didier Martin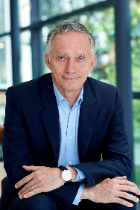 Département
Corporate / M&A / Securities Law / Litigation
Fonction
Partner
Carrière professionnelle
Didier Martin, Partner, is one of the leading specialists on French public tender offers, securities laws and privatisations. He also devotes a significant part of his time to litigation in various areas such as securities law and takeovers, white-collar crime and bankruptcy.
He has written numerous books and articles on corporate law and securities law, and has recently published Le Code Monétaire et Financier, les Abus de marché, le Guide des pactes d'actionnaires.
He is a member of several committees and associations, including the Financial Transactions Committee of the MEDEF (the French employers' federation), as well as the recently created Haut Comité de la Place Financière de Paris. He is also a founding member of the Observatoire de la Communication Financière.
Langues
French, English
Formation académique
Admitted to the Paris Bar (1977), Didier is a graduate of the University of Paris II Panthéon-Assas (DEA in private law, 1976; DEA in criminal law, 1977).
Classements des avocats
Le grand cabinet français d'affaires  Bredin Prat est une référence incontournable devant les tribunaux. La pratique contentieuse s'inscrit dans le prolongement naturel de l'activité de premier plan du cabinet dans le domaine des fusions et acquisitions. L'équipe connaît ainsi des plus grands litiges liés aux deals de fusions-acquisitions, notamment dans le domaine des opérations cotées de grande envergure. Ainsi, le cabinet s'est illustré par son rôle de premier plan dans la bataille judiciaire Suez-Veolia. L'équipe est également sollicitée pour gérer des conflits d'actionnaires et de gouvernance très sensibles, portant sur de grandes sociétés. En parallèle des litiges financiers, le cabinet est aussi mandaté par les plus grandes entreprises françaises et internationales pour les accompagner dans la gestion de contentieux les plus stratégiques en matière commerciale et de responsabilité. L'équipe est aussi en mesure de gérer des procédures complexes, mêlant ensemble des aspects civils, pénaux, réglementaires ou internationaux majeurs. A titre d'exemple, le cabinet a défendu avec succès un de ses clients devant les juridictions françaises, dans un litige en responsabilité relatif à l'utilisation du gaz chimique « agent orange » pendant la guerre du Vietnam. La pratique est codirigée par Jean-Daniel Bretzner

, Florian Bouaziz, Sébastien Prat

et Eve Duminy; ainsi que par  Didier Martin, qui intervient principalement en contentieux boursier, et par le grand pénaliste Eric Dezeuze

. Calmann Bellity, Aurélie Patrelle et Tom Vauthier ont été promus au rang de counsel en janvier 2021.
Top Tier Firm Rankings
Firm Rankings